*Always,always spray pots,pans,with Pam cooking spray FIRST!*
Mitzi's Kielbasa Kounty Surprise
Ingredients:
-2 rings Kielbasa(usually pre-cooked)
-1 lb fresh sliced mushrooms
-1 large chopped onion
-4 potatoes,sliced
-2 green peppers,sliced
-2 cloves crushed garlic
-1 yellow summer squash
(zucchini will do in winter)
-Salt,pepper
Usually,I cook this on the grill,in an aluminum pan.
(Beware!Neighbors will smell it!)
Spray pan with Pam,which I ALWAYS use
Slice kielbasa,add it & veggies to 9 by 13" pan
Cover with foil,place on grill,low heat
Stir frequently,cook until potatoes are tender
About a half hour
Some good crusty bread goes nicely!



Shrimp Zucchina ala Mitzi
Ingredients:
1 lb bag precooked frozen shrimp,thawed
2 large zucchini,sliced
1 pack fresh mushrooms,sliced
1 stalk celery,chopped
2 large onions,chopped
1 red pepper,sliced or chopped
3 cloves garlic,chopped
2 cups Italian bread crumbs
1 stick butter
Extra Virgin Olive Oil
1 cup shredded cheese,your choice
Salt,pepper to taste
Add 1 stick butter to skillet
Place garlic,onions,celery in skillet
Cook about 15 minutes till soft
Add bread crumbs,stir..use more olive oil
to moisten if needed
Place shrimp,zucchini,mushrooms,red pepper
in 9 by 13 pan..cover with skillet mix
Toss abit of oil on top
Place in 350 oven for 35 minutes
Last 5 minutes,top with shredded cheese
Chicken/Peppers w/Pasta


Ingredients:
-2 large skinless boneless chicken breasts
Cut into chunks
-1 each large red & green pepper,
cut into strips
-1 cup chopped onion
-1 cup sliced fresh mushrooms
-2 cloves garlic,diced
-1 can cream of mushroom soup
-1/2 pound cooked ziti,elbows
or whatever pasta you prefer
-1 tsp each salt/pepper
-1 cup shredded cheddar cheese
-1 tblspn e.v. olive oil Spray Pam cooking spray in large
frying pan,add oil
Over medium heat,add fresh chicken
veggies,salt & pepper
Cook about 20 minutes,till veggies are tender
Pour into 2 qt casserole dish,add pasta
Pour soup and 1/2 can water over,mix well
Cook at 350 for 45 minutes,the last 5 minutes
add cheddar cheese
Great with a tossed salad and french bread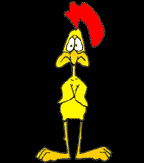 Easy Chicken & Dumplings
Ingredients:
-1 lb.chicken breast,cut
up into small chunks
-3 carrots,cut into pieces
-3 stalks celery,cut into pieces
-1 bay leaf
-1 onion,chopped
-3 medium potatoes,peeled & sliced
-4 cups chicken stock(buy in cans!)
-2 envelopes Herb-Ox poultry seasoning
(easy to find,right where dried soup mix is)
-2 cups Bisquick baking mix
-1 cup water
-Olive oil,2 tablespoons
Put oil in pot,medium heat.
Add carrots,celery,potatoes,onion,
Cook about 15 minutes,stirring!
Add chicken stock,seasoning,bay leaf
and chicken pieces to pot
Cook about 20-30 minutes,
till carrots feel soft.
Mix Bisquick and water.
Drop by spoonfuls onto top of pot
Cover and cook about 10 minutes,
dumplings will expand!
Serve right away as dumplings
will absorb broth.
Teriyaki Pork
-6-8 thin boneless pork chops
-1 bottle teriyaki marinade
-Fresh sliced mushrooms,about 1/2 lb
-4 green peppers,sliced
-1 onion,chopped
-1 green zucchini,sliced thin
-White rice,about 2 cups cooked
About 2 hours before cooking time,
place meat,veggies(not rice) into
a 9 by 13" pan.Cover with teriyaki marinade.
Let stand for 2 hours in refridgerator.
When ready to cook,preheat oven to 350 degrees.
Cover and cook about 45 minutes,
till veggies are tender.
While pork is cooking,make the white rice.
Serve teriyaki pork over the rice.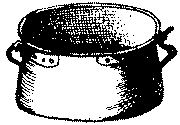 Eggplant Supreme
(Good vegetarian dish)
Ingredients:
-1 box frozen breaded,sliced eggplant
(found in freezer isle)
-1 lb. fresh mushrooms
-2 green peppers.sliced
-1 onion,sliced
-1 jar pasta sauce,your choice
-1 14 oz. can Italian stewed tomatoes
-2 cups shredded mozzarella cheese
Preheat oven to 350. Put abit of sauce in a 9 by 13" pan.
Place sliced eggplant in bottom of pan
Top with veggies,then stewed tomatoes,
then pasta sauce,add cheese last
Cover and cook for about 45 minutes,
till veggies are tender.
You can serve with pasta,and warm bread.



Gram's Meatloaf
Ingredients:
-2 lbs.ground beef(or you can use ground turkey)
-1 cup bread crumbs
(seasoned is better)
-1 large egg
-1 small chopped onion
-1 can tomato soup
-1 teaspoon garlic powder
-1 tablespoon grated parmesan cheese
-Salt,pepper
Mix ground beef with bread crumbs,egg,onion
garlic powder,salt,pepper
Open can of tomato soup,
add 2 tablespoons into meat mix
Blend well and put into 9 by 13" pan
shape into a loaf
Pour soup over the top,then cheese
Bake at 350 oven for one hour
Beefy Macaroni
Ingredients:
-1 lb.ground beef
-1 lb.wagon wheel-shaped pasta
(actually any shape is ok,but no spaghetti)
-1 jar pasta sauce,your preference
-1 can Italian-style diced tomatoes
-1 small onion,chopped
-1 bay leaf
-2 cloves garlic,crushed
-1 tblspn olive oil
-Salt,pepper to taste
-One very LARGE skillet
(dutch oven will do also)
Cook pasta according to directions.
While pasta is cooking,add oil to LARGE skillet,
crumble ground beef into skillet,add
onion,garlic,cook till beef is browned,
adding salt & pepper to taste,about a teaspoon each.
Drain fat off after beef is cooked.
When pasta is done,drain,and add
to skillet.Then add your pasta
sauce,diced tomatoes,bay leaf.
Cook on medium low heat,about 20
minutes,till it's bubbling easily.
That's it!I usually serve some
warm Italian bread and
a salad along with it.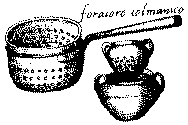 Chicken-Sausage Cacciatore
I use a crockpot for this
Ingredients:
-5-6 chicken breasts or thighs
(bone in has better taste)
-6 links sweet or hot Italian sausage
-1 jar pasta sauce
-1 can Italian stewed tomatoes
-2 cloves crushed garlic
-1 zucchini,sliced
-1 onion,chopped
-1 bay leaf
-1 cup sliced mushrooms
-1 lb ziti
-Salt,pepper
Brown sausage in skillet,add to crockpot
Add chicken,then zucchini,onion,mushrooms,garlic
bay leaf to crockpot,add tomatoes,pasta sauce,salt,pepper
Stir & set on low for 8-10 hours,stir ONLY occasionally
(you lose cook time each time you raise the crocklid)
Cook pasta according to package directions,
about 15 minutes before chicken is done
I always take the meat out and de-bone it,
and place meat back in crockpot
Serve over ziti
Pierogi Saute
Jess' very favorite!
Ingredients:
-1 box 12 ct frozen pierogi's,your choice
(potato-onion,or potato-cheddar are faves here)
-1 large sliced green pepper
-1/2 chopped onion
-2 cups sliced mushrooms
-1 cup frozen greenbeans
In summer I add 1 zucchini or yellow
squash,which I grow in my garden
-Salt,pepper
Very easy,spray some E.V.O.O.
(extra virgin olive oil),into skillet,
medium low heat,add all ingredients
Cover,stirring frequently to keep from sticking.
Chicken Parmesan
Ingredients:
-6 boneless chicken breasts
-2 cups italian seasoned bread crumbs
-1 cup grated parmesan cheese
-2 cups pasta sauce
-1 egg
-1/2 cup water(you can also use milk)
-12 oz.grated mozzarella cheese
(pre-sliced in package is fine)
Olive oil for frying
-Salt,pepper,garlic powder
Mix together bread crumbs and parmesan cheese,
add salt,pepper,garlic powder,teaspoon each
Place on large plate so you can coat chicken on it
Beat egg,add to water,place in bowl
Dip breasts into egg & water,then coat in
breadcrumb mixture.
Place in heated frying pan
for 3 minutes on each side
Place in 9 by 13" pan
Top with sauce,just enough
to cover breast,then top with mozzarella
Bake at 350 for 45 minutes.
Great with pasta!
Eggplant ala Mitzi
Ingredients:
Serves 4
-1 peeled eggplant,cut into chunks
-1 medium onion,chopped
-1 green or red pepper,sliced
-2 large cloves garlic,smashed
-1 can Italian stewed tomatoes
-1/4 cup olive oil
-1 teaspoon basil
-1 chicken bouillion cube
(or chicken seasoning)
-1/2 lb.ziti,cooked
Salt,pepper
In large deep skillet,add oil,medium heat
Add all chopped vegetables,garlic,basil
bouillion,salt & pepper
Cook for about half an hour,till tender
Pour in one can tomatoes,
Heat thru,and serve over cooked ziti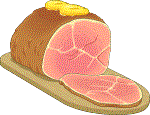 Maple baked Ham
This is SO easy!!
1 spiral ham
1/4 cup maple syrup
Just prepare ham as directed and
place in baking pan.
Cook according to instrucions
but take out 15 minutes before alloted
time and pour maple syrup over ham
Cover and continue baking.
Crockpot Chicken
-6-8 chicken breasts,bone in
-1 can mushrooms
-1 can cream of mushroom soup
-Salt,pepper,garlic powder
Add all ingredients to a large
crock pot,cook on high for 4-6 hours
Serve over pasta,or with mashed potatoes
Thanks to Dark Treasures for some of these great graphics!