Shephard's Pie
Ingredients:
-1 1/2 lbs.ground beef
-5 lbs,potatoes,peeled,cubed
-2 cans corn,1 creamed
-1 tblsp. margarine
-1/2 cup milk
-1 small chopped onion
-Salt,pepper to taste
Put potatoes in pot with
water,just covering them
Cook about 20 minutes,till soft
Brown beef and onion in skillet till crumbly
When potatoes are done,drain.
With egg beater or potato masher beat spuds on low
adding milk & butter
salt and pepper till soft and creamy
In large casserole dish,add two cans of corn
then add ground beef/onion, Top with whipped potatoes
Top with pats of margarine, Place in 350 oven for about 25 minutes

Pork chops and rice
Ingredients:
-6 pork chops,any cut you like
-4 cups beef broth
-2 cups uncooked white rice
-1 green pepper,cut into rings
Place uncooked rice in large casserole dish
Add 4 cups beef broth
Place pork chops on top of rice
(its ok if its watery)
Place pepper rings on top of chops
Cover and bake in 350 oven for one hour
(You can substitue chicken breast instead of pork
add chicken broth instead of beef)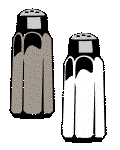 Hamburger/Potato casserole
Ingredients:
-1 pound lean ground beef
-3 cups peeled and thinly sliced potatoes
-1 can cream of mushroom soup
-1/2 chopped onion
-3/4 cup milk
-Salt,pepper to taste
-1 cup shredded Cheddar cheese
Brown the ground beef; drain fat.
Combine cream of mushroom soup, onion, milk, salt and pepper to taste.
Alternately layer the potatoes, soup mixture and meat in a large (2 quart)casserole dish
Bake for 1 to 1 1/2 hours, or until potatoes are tender.
Top with Cheddar cheese, and continue baking until cheese is melted.