Appetizers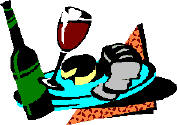 Stuffed Mushrooms
My pal Lynn's recipe..
which I make every Christmas!
(or I am in BIG TROUBLE!)
Ingredients:
-2 large containers regular white mushrooms
-2 cups Italian seasoned bread crumbs(approximately)
-2 cups finely chopped onion
-2 cups finely chopped celery
-1 stick butter or margarine
-Salt,pepper
Clean mushrooms,twist off,chop & save stems
Set mushrooms aside
In frying pan,melt butter,add celery & onion
Cook till celery is soft,about 20 minutes,med.low heat
Add stems,cook for 10 minutes,add more butter if needed
Add the bread crumbs,alittle at a time,till it mixes in.
(You may not need all the crumbs)
Salt and pepper
Taking a tablespoon,ladle stuffing into mushroom caps
placing into 9 by 13" pan as you go
Cover and cook at 350 for about 20-25 minutes,
Have toothpicks handy!



Bruschetta
Ingredients:
1 large precooked pizza crust(ex.-Boboli)
(you heat it for 10 minutes)
2 cups fresh diced tomato
2 cloves finely chopped garlic
2 teaspns.dried basil,or 6 fresh strips,cut
1/4 teaspns salt,pepper
1 cup shredded mozzarella cheese
Set aside crust.Toss all other ingredients
together,let sit for about 20 minutes,
then add evenly over top of crust
Bake at 375 oven for about 10 minutes
Serve immediately
Ranch Veggie Pizza
1 large precooked pizza crust(ex.-Boboli)
(follow package directions to precook,like 10 minutes)
1 block cream cheese,room temp
1 cup mayo
1 cup ranch dressing
1 cup sliced cucumber
1 cup sliced green pepper
1 cup sliced red pepper
1/2 cup diced onion
Mix cream cheese,mayo,dressing,
spread onto precooked pizza crust
Spread veggies on top and cool it for
about 1/2 hour
You can substitute any fresh veggies
Back home